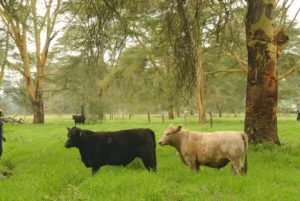 Livestock Trade Services, a start-up in the Livestock export processing and regenerative agriculture sectors has just signed a long-term agreement with Oracle Fusion Cloud as its partner providing a full range of ERP Business Management  Software services.
LTS CEO Chip Stem says, "Oracle Cloud will enable LTS to reach the goal of becoming a Leader in the Africa to ME export livestock export and agriculture production axis."
After 5 months of intense comparison, countless demos and in-depth learning about the current offerings of cloud-based Enterprise Resource Planning Software, LTS has selected Oracle over the many competitors in this exciting space.
Hossam Refaat, Oracle Senior Sales Director (CATLEENA Region) says, "At Oracle, we believe we do not deliver just a product, but we deliver an experience and a way forward.
Based on that, Oracle is proud to work closely with LTS as their selected Business Applications partner, supporting LTS to become the game changer and lead Livestock industry in Middle East & Africa."
Oracle Cloud computing offers significant advantages to LTS in terms of security, initial and mid-term cost outlays, rapid start up, scalability, and permits an infinite number of operational and staff locations.
But even more importantly for LTS, unlike most competitors, Oracle Cloud's highly integrated platform permits rapid adoption and full integration of big data, blockchain, and Internet of Things (IoT) applications with all business planning, operational, and financial services permitting seamless real time monitoring.
Dr. Chip Stem, LTS CEO says "Agriculture and livestock production are rapidly changing with consumers wanting their food and meat to have increased nutrient density while also being free of antibiotics, hormones, pesticides and herbicides."
"We are thrilled that Oracle Cloud provides LTS with the necessary cost-effective service combination to enable the rapid flexibility and responsiveness that is required to deliver these products to our consumer base."